ECLAT INTENSE
Fortifying and hydrating Sap for Beauty
Description
INNOVATION OF BELLE OEMINE BIO!
Detoxifying, tonifying and hydrating beauty water based on UNPASTEURIZED ORGANIC XYLEM BIRCH SAP* which is particularly interesting for the skin.
96 % organic, 100 % natural origin. Highly concentrated formula with 100 % of noble ingredients: does not contain simple water. Very gentle: without essential oils, perfume and alcohol free.
With hydrating and antimicrobial peptides (fermentation of lactic bacteria of plant origin).
With hyaluronic acid** of very low molecular weight, easily penetrating and acting in-depth.
Apply to clean dry skin before using your skincare products. Your skin becomes fresher, more hydrated, soothing and repulping.
This Sap for Beauty is also very efficient as a make-up fixer.
---
In summer you can use this spray anytime to refresh and hydrate your skin.
* A few words about the birch sap that we use.
In our beauty products we use the Oemine birch sap that you can buy in our online shop as a dietary supplement. It comes from Finland, certified organic and of exceptional quality:  https://boutique.oemine.com/fr/nutrition-naturelle/223-seve-de-bouleau-bio-500-ml.html 
This birch sap is 100% natural, unpasteurized, preservative free and it has been extracted without any contact with air thanks to the method called "the tree to the bottle" (the sap goes directly to the bottles without any alteration or oxidation because there is no contact with air). Why did we choose the birch sap from Finland? Because this country with immense forests possesses a biotope favorable for the harvest that guarantees excellent birch sap, rich in minerals and trace elements.
** The tests in-vivo and in-vitro of this hyaluronic acid of very low molecular weight has shown:
A repulping effect by a significant thickening of the epidermis (and the loss of roughness).
An improvement of skin elasticity.
An effect of refilling wrinkles.
Hydrating properties and an improvement of the skin barrier.
Exists in travel or handbag size. 
So that your Sap for Beauty never leaves you…
Ingredients
COMPOSITION: Organic birch sap from Finland, natural hydrating peptides, low molecular weigh hyaluronic acid. And that's all: alcohol free, essential oil free, perfume free and without simple water.
Preservative free: natural preservation thanks to hydrating lactobacilli (of plant origin, not of animal origin) that have antimicrobial properties as well.
Ingredients : Betula Pendula Roth*, Lactobacillus Ferment, Sodium Hyaluronate.
*Organic ingredient.
100 % of natural origin.
96 % organic.
Cosmos Organic cosmetics certified by Ecocert Greenlife ttp://cosmetiques.ecocert.com.
What does a liter of birch sap contain on average?
-Potassium: 12 mg/l
-Calcium: 54 mg/l
–Magnesium: 10 mg/l
-Phosphorus: 3 mg/l
-Zinc: 1,2 mg/l
–Manganese: 3,6 mg/l
Waste sorting instructions:
Packaging, bottle and cap are recyclable. Nothing to throw away!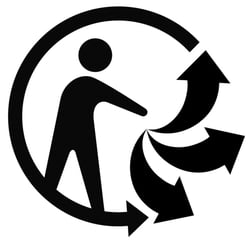 Beauty tips
ECLAT INTENSE Sap for Beauty can have different usages: to fortify and hydrate your skin between cleaning and applying your skincare products, to fix your make-up or just to refresh your skin.
the morning: spray the sap on your face and let it act for a minute before applying your serum and cream.
Sap for Beauty makes your skin fresher and more hydrated, softer and repulping whatever skin type you have: dry, greasy, normal or sensitive.
 Make-up fixer: spray after making-up your face. It will help fix and keep your make-up fresh longer.
If it is necessary spray again during the day. The 100 ml size is very practical, you can take it everywhere in your handbag.
 Particular usage: as a refreshing spray to prevent your skin from dehydrating during the periods of high heat.
Vous aimez ce produit ? Partagez le avec vos ami(e)s :